Your Guide To The Top Shampoos and Conditioners On The Market
We'll Reveal The Key Ingredients That Boost Scalp + Strand Health, Regardless Of Hair Type
Updated 08/13/2020
Whether your locks are straight, curly, bleached, or thinning, effective shampoo and conditioner ingredients have the power to transform the health of your hair from root to tip. They're the foundation of a healthy haircare routine.
Unfortunately, our research uncovered that many popular brands prefer investing in aggressive marketing over quality ingredients that actually make hair healthier.
We created this guide to help better inform you about what to look for in a shampoo and conditioner. Keep reading to become an expert on hair health and avoid being swayed by expensive advertising and false promises.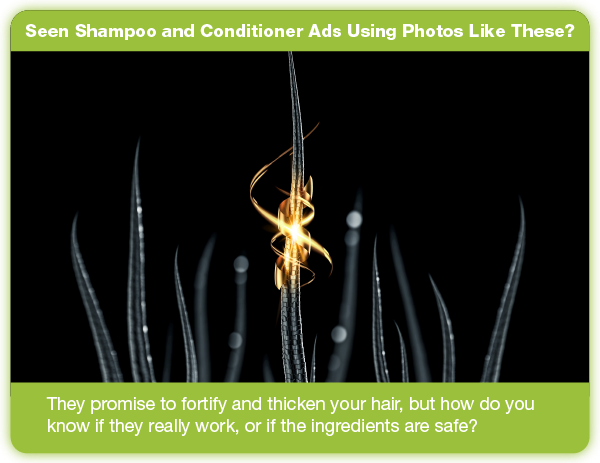 Are Shampoo and Conditioner Ingredients Really That Important?
You are what you eat, right? Consuming processed and unnatural foods can lead to serious health issues. The same goes for your hair.
In fact, your hair and scalp act like a sponge by absorbing what you feed them. This also includes the unhealthy chemicals found in many hair products.
Building the right foundation for your hair care routine starts with a shampoo and conditioner that offers the right mix of essential oils, vitamins, natural extracts and mild cleansers to gently clean your hair and scalp while fortifying it with pure ingredients.
Unfortunately, many brands focus their ingredients to specific hair textures. This limits the full value of a comprehensive hair health routine. Try to find products with potent ingredients proven to boost the health of all hair textures.
Beneficial Shampoo Ingredients:

Essential Oils
Peppermint Oil - Fortifies and stimulates the hair cuticle
Cedarwood Oil - Stimulates scalp circulation
Tea Tree Oil - Removes dead cells and unblocks hair follicles.
Jojoba Seed Oil - Treats dry scalp
Grapefruit Oil - Prevents dandruff and skin irritation.
Marula Oil - Seals, coats and smoothes your hair cuticle.
Fortifying Extracts
Horsetail (plant) - Promotes circulation and strengthens follicles.
Nettle - Blocks excess DHT, a hormone linked to baldness.
Willow Bark - Stimulates growth.
Proteins
Keratin - Protects your strands' cells from heat styling.
Soy and Wheat Proteins - Penetrate the cortex of you hair strands.
Natural Foaming Agents
Cocamidopropyl Hydroxysultaine - Derived from fatty acids in coconut oil, acts as foaming, anti-static and conditioning agent.


Natural Conditioner Ingredients:

Essential Oils
Argan Oil - Coats, protects and moisturizes your hair.
Coconut Oil - Strengthens strands and promotes hair growth.
Avocado Oil - Coats and strengthens damaged hair.
Proteins
Keratin - Reduces frizz, smoothes, and promotes shine.
Hydrolyzed Soy Protein - Increases moisture and adds shine.
Amino Acids
Silk Amino Acids - Help rebuild and nourish damaged hair without weighing it down or causing buildup.
Detangling Agents
Behentrimonium Methosulfate - Mild and recommended for use on baby products. Prevents dandruff and hair loss.
Knowing which ingredients to look for in your shampoo and conditioner is only half the battle. We also need to understand the dangers of certain common ingredients and why to avoid them. This is especially critical if you're experiencing an itchy or dry scalp and have noticed hair loss or thinning. The causes may be right inside your shampoo or conditioner.
Harmful Shampoo Ingredients:
Harsh sulfates:

SLS and SLES are chemicals proven by the American Journal of Contact Dermatitis to cause irritation and are added to shampoos because of their cheap and effective bubbling properties.

Parabens:

Chemicals including methylparaben, ethylparaben and propylparaben can be absorbed through your skin and have been linked to breast cancer.

Cocamide DEA/TEA/MEA:

Found in many products claiming to be natural, the basis of this chemical—coconut oil—seems innocent enough. But scientists tinkered with the ingredient, modifying it into an unnatural, toxic form. In 2012, California added it to its known carcinogens list.
Dangerous Conditioner Ingredients:
Behentrimonium Chloride:

Also known as Docosyltrimethylammonium chloride, this cheap, harsh chemical can cause skin and eye irritation.

Isopropyl Alcohol:

Used in antifreeze, wood finish and shellac, strips your strands of natural oils and can cause hair damage.

Silicones:

While you usually can't avoid them in your styling products, they shouldn't be present when conditioning your hair. They clog your pores and dry your hair from the inside out.
Do You Need To Shop Organic?
Buying organic products is generally great for both your health and the environment, but does that also translate to your hair? We discovered that there is no added value to buying organic shampoos and conditioners over products with natural, safe ingredients. The top reason: Federal law doesn't require personal care products to be 100% organic in order to claim that they are. Additionally, many "organic" products aren't actually effective at cleansing and hydrating. Some of them even include the unhealthy additives listed above, which means they can hurt more than help. An organic product won't always protect you from potentially dangerous chemicals. We found that it's better to base your choice on natural and effective ingredients.
3 Ways Your Shampoo Brand May Be Fooling You
Flashy Marketing Tactics:

Product labels that promise to thicken your hair, add glossiness, or promote curl texture are not all that they seem. Look for brands with the natural ingredients listed above. These target your hair's overall health, which is more likely to result in the texture you've been wanting.

Fake Customer Reviews on Amazon:

The Amazon Marketplace is a hotbed for fake reviews. It's estimated that up to 65% of companies pay for favorable reviews, when in fact the reviewer hasn't ever even held a bottle of their shampoo in their hand. Don't rely on these false testimonies to make important decisions on the health of your hair.

Watered-Down Drugstore Products:

Most drugstore shampoos that are mass produced contain a very small percentage of the beneficial active ingredient that will improve your hair health. The other 90% is filler and water. That's some pricey water! Instead, opt for doctor-formulated hair care products that have the highest concentrations of active ingredients.
Our Top 3 Shampoo and Conditioner Sets
We've compiled this list after testing over 60 different brands of hair shampoo and conditioners for potency, clinically proven ingredients and user satisfaction. These are the brands that made it to the top:
---
---
Top Pick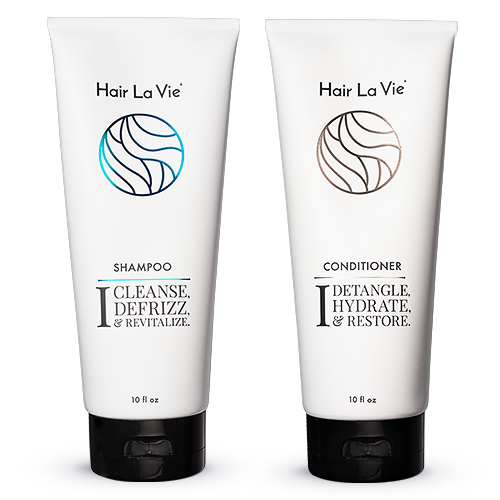 Consumers Survey Recommended
21 Natural Ingredients
Health boost for all hair types
Free of sulfates, parabens and silicons
90-Day Money-Back Guarantee
Third-party tested

Made in the USA

Coming in at number one is Hair La Vie's Shampoo and Conditioner set. It received the highest user ratings by a huge margin.


This shampoo and conditioner is formulated with 21 natural oils, extracts, vitamins, proteins and amino acids, many of which we listed above.
It was originally designed to prevent hair loss and promote healthy hair growth, however we read
positive reviews across the board
for this powerful formula, stating it provided improved overall hair health for people with widely varied types.
The shampoo and conditioner is formulated in the USA in an FDA-registered, cGMP-compliant lab. We were able to quickly reach their friendly customer service team, and found that they were extremely knowledgeable and proud of their products. With all this in mind, we felt Hair La Vie deserved to be #1.
---
Pureology Hydrate Shampoo and Hydrate Conditioner
is a highly concentrated salon product. Users reported that
this was their go-to shampoo and conditioner
, however, one word of warning: we found
silicones, parabens, and synthetic colors and fragrances on their label
. While it does also contain several essential oils, is hugely popular and smells great, their ingredients made us uncomfortable with putting this in our number one spot.
---
Keranique rounds out our list of top shampoos. It's said to be ideal for color-treated and thinning hair, and many users are happy with the results. While some reviews were negative and a few users noted that they didn't see any results, Keranique's shampoo remains hugely popular. Unfortunately, it does contain silicones, and synthetic colors and fragrances.



See Our Complete Review > >
Order Now > >
---
What We Do
ConsumersSurvey uses a unique three-step approach to reviewing the most popular products in the online marketplace
1. Research First we conduct in-house research with a highly qualified editorial team comprised of individuals who specialize in various fields.

2. SurveyWe survey our readers who have tried the product over time in order to learn from their experiences.

3. OpinionWe monitor public opinion in the world's most popular marketplaces, from Amazon and eBay, to Bizrate and Pricegrabber.