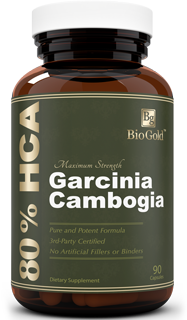 BioGold is a newer supplement company boasting Garcinia Cambogia at an 80% HCA concentration. This was the highest HCA level we'd ever seen so we were initially skeptical. Much to our surprise, the test results did indicate 79.2% HCA. Another important point to mention is that supplements affect every single person differently, so while our tests validated their claims it does not mean that a higher amount of HCA will guarantee better results.
INGREDIENTS AND EFFECTIVENESS
As mentioned, BioGold's claim of 80% HCA had us very skeptical at first, due to the fact that this is the highest HCA claim we've seen in the Garcinia Cambogia market. Very often, companies will make outlandish claims just to sell their product and we thought this was a similar case. However, when the lab results came in it did validate their claim with a result of 79.2%. With that said, the fact remains that the clinical studies performed on Garcinia Cambogia all used 60% HCA so to date there is no solid clinical proof that a higher HCA dose means better results. Beyond the HCA, BioGold's formula contains 150mg potassium to help with absorption. This is slightly higher than our first and second rated products but again, more potassium does not necessarily guarantee better results.
CUSTOMER SATISFACTION
This was a tougher category to judge for BioGold. Since they are a relatively new company, there were only several dozen reviews as opposed to hundreds for most other brands we surveyed. In general a 3.8 star rating is definitely a good start for a new company. They've matched the best industry guarantees we've seen by offering a one-year guarantee like our other top two brands which is a good thing of course.
When we called their customer service we spoke to a representative that was excited to talk about the company's various products and was disappointed when we returned our product. The process was pretty easy. Once we obtained an RMA (Return Merchandise Authorization) number we just sent back the product and were credited within a few days of receipt of the product, so their guarantee does work.
PRODUCT SAFETY
As we mentioned in our main article, some of the Garcinia Cambogia products on the market include unnecessary ingredients, like chromium, magnesium stearate, and silicon dioxide that act as fillers. While these ingredients aren't inherently dangerous on their own, they can potentially cause unwanted side effects.
With little regulation in the supplement industry, It is important to be aware of what you put in your body, especially when dieting.
BioGold Garcinia Cambogia passed testing for all claimed ingredients, HCA and potassium, and does not contain any unnecessary ingredients. It is free of contaminants, heavy metals, and other bacteria and toxins.
Garcinia Cambogia isn't known to interact with other medications or medical conditions, especially when the ingredients only include HCA extract, and potassium.
GUARANTEE
BioGold Garcinia Cambogia comes with a full one-year money back guarantee. When we tried it ourselves we had no problem getting a refund. This type of guarantee is rare in the supplement industry and that is why we were delighted to find out that our top three surveyed brands all have this extended guarantee. This is just another telltale sign that these companies take their product and customers seriously.
SUMMARY
While BioGold's 80%HCA is definitely impressive, the higher concentration of HCA does not mean that it will necessarily perform better. Another small thing worth mentioning is unlike the top two companies, with BioGold you must take three pills a day to reach the recommended dosage. Since the company is new to the market it does not have much of an online reputation and that is why it landed in third place. Only time and further user reviews will tell if this company will climb up or descend in ratings.

Special Offer For First Time Users
Consumer Survey reached out to the top three rated brands to see if they could offer any special discounts for our readers to help start their diet regimen.
Please take a look at the offers from the folks at BioGold below.
Please note this is a limited time offer and can only be given from this page.
(Limit 1 Package per customer – please only order one of the 1, 3, or 6 pack from this page.)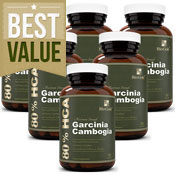 6 MONTH SUPPLY
(six bottles)
Original Price:$298.95
$167.00
($27.83 per bottle)
44% SAVED
3 MONTH SUPPLY
(three bottles)
Original Price:$149.85
$99.95
($33.32 per bottle)
33% SAVED
1 MONTH SUPPLY
(one bottle)
Original Price:$49.95
$39.95
20% SAVED
---
P.S. While Essential Elements is the best garcinia cambogia we've found, we would still love to hear about any others you've tried. If you have had a great experience of your own, please send me an email at Beverly@ConsumersSurvey.org with the details. We'll check it out and if it looks good, we'll post it on our blog.
Sincerely,
Beverly Gratson
---