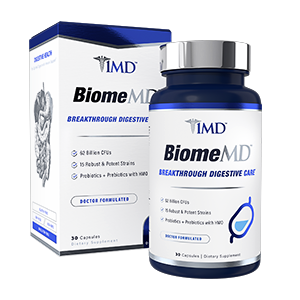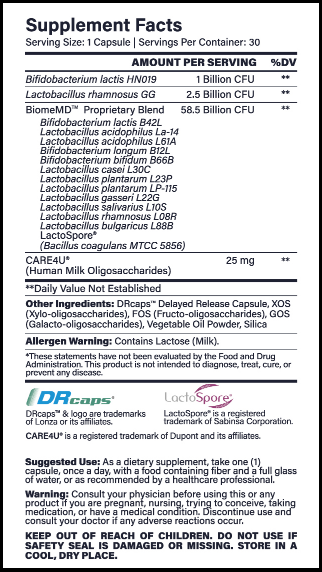 1MD BiomeMD impressed us and is our #1 Probiotic Supplement. Here's why:
Contains 62 billion live cultures in each serving
15 robust strains, selected specifically to assist with acid and bile resistance
Endorsed by a medical physician specializing in digestive health
Each Strain lists its substrain that has been clinically studied.
Each vegetarian capsule is specially designed to resist stomach acid, which securely delivers the probiotics to the intestinal tract
Human Identical Oligosaccharides (HMO) Prebiotics contain prebiotics nearly identical to the most effective prebiotics found in mother's breast milk.
Take only one capsule per day for full serving
Has no synthetic fillers or binders making it completely all-natural
Made in the USA
INGREDIENTS
1MD BiomeMD has everything you need in a quality probiotic supplement. With an impressive 62 billion CFUs and a diverse set of 15 probiotic strains, this well balanced probiotic supplement contains human identical oligosaccharides (HMO) and includes a list of sub-strains that validate the clinical studies of this extraordinary product.
1MD has done their homework and has provided us with an all vegetarian capsule that you only have to take once a day.
The 1MD quality reputation is upheld by Dr. David Kahana, a board certified Gastroenterologist and pediatric, who has been researching probiotics for the past 10 years.
Here is a list of the 15 different strains found in BiomeMD from 1MD:
Lactobacillus rhamnosus GGTM
Bifidobacterium lactis HN019TM
Bifidobacterium lactis B42LTM
Lactobacillus acidophilus L61ATM
Lactobacillus acidophilus La-14TM
Bifidobacterium longum B12LTM
Bifidobacterium bifidum B66BTM
Lactobacillus casei L30CTM
Lactobacillus plantarum LP115TM
Lactobacillus gasseri L22GTM
Lactobacillus salivarius L1OSTM
Lactobacillus rhamnosus L08RTM
Lactobacillus bulgaricus L88BTM
Lactospore® (bacillus coagulans MTC 5856)TM
CUSTOMER SATISFACTION
After conducting user surveys and our own in-house research, we are confident that BiomeMD is helping men and women with their digestive issues by improving their users digestion system, immune system and overall health.
Several users stated that it took them between 1-2 months of consistently of taking 1MD probiotics to feel and see the full benefits of taking this quality supplement. Many of those same reviewers said they will continue taking and recommending this brand over any others.
BRAND GUARANTEE
1MD offers "The 1MD Promise," it is based on 4 different categories: a 100% 90-day Satisfaction Guarantee, Superior Quality, Superior Safety, and Stellar Customer Service.
The 100% 90-day Satisfaction Guarantee, is one of the best we've ever seen, it guarantees your entire purchase for 90-days, shipping and handling included. You can tell they truly stand behind their products by giving their users plenty of time to test their probiotics and their other supplements.
SUMMARY
1MD's BiomeMD the most popular daily probiotic for a reason. It is one of the best formulas we found on the market because of its 62 billion live cultures, 15 robust and clinically studied strains, NutraFlora prebiotic fiber, veggie capsules and no synthetic fillers.
This was the only product we found that is endorsed by a medical doctor, specifically a Gastroenterologist (gut and digestive health physician). It was also the only company that listed each of its clinically studied substrains.
Overall, users are extremely satisfied, and reported better digestion, increased energy and help with bowel issues, including gas and bloating. We collected numerous positive reviews several stating that these probiotics significantly reduced their digestive issues.
How Does 1MD Probiotics Complete Compare?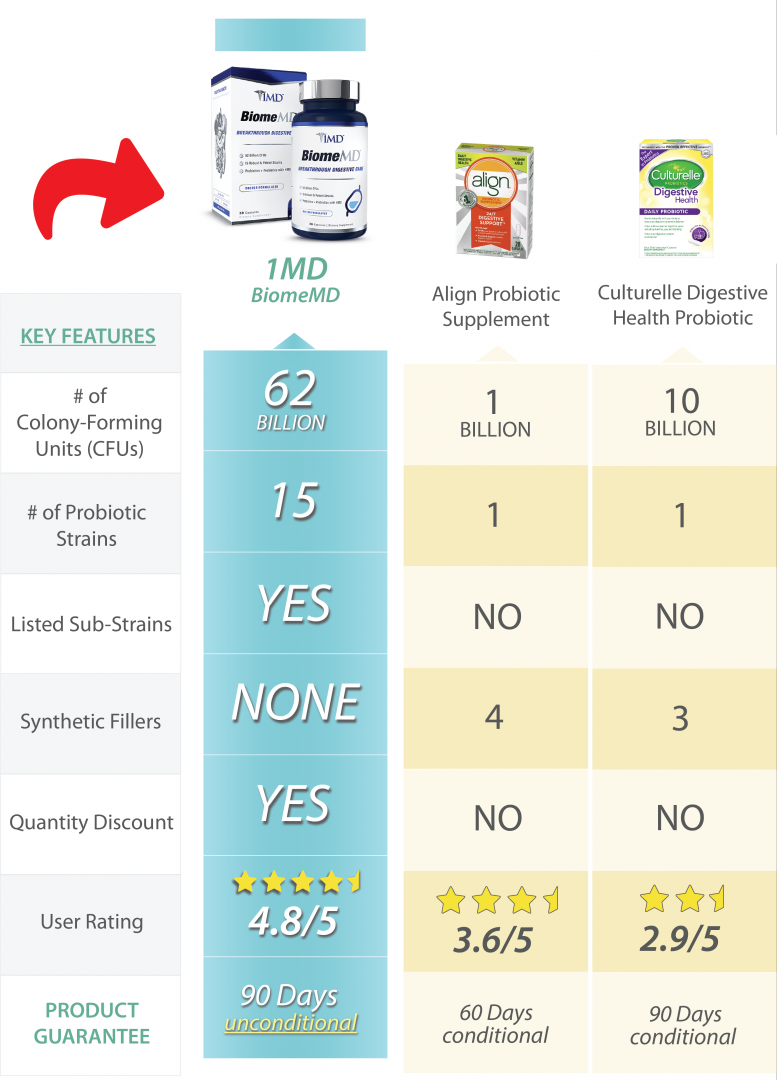 Voted Most Useful User Reviews
Rating:

Couldn't ask for a better probiotic

"It took me a couple of weeks to get used to the probiotics and to really start to feeling better. My wife said she instantly felt better and it helped curb her craving for sweets. I'm am more than happy about how my body feels after incorporating these probiotics." - Andrew Theriot, Burlington, VT

*Results may or may not be typical.*
Rating:

Good Belly Health

"I used to suffer from chronic constipation, if anyone has a hard time pooping you've share my your pain. I've tried everything from high fiber yogurt to eating beans and swallowing spoonfuls of oil. Anything to coax the process. I first heard about probiotics helping your digestion on a podcast. I never thought i'd be able to take a pill and then magically be able to poop. I wasn't looking for a laxative so i was interested in trying something new out. I started taking 1MD probiotics a few days ago. Literally 2 days ago! Today, I went to the bathroom normally - no pain no struggling no runny laxative feeling. I can already tell there is a difference in my gut." - Geoff Halls, Oklahoma City, OK

*Results may or may not be typical.*
Rating:

Never Felt Better

"This is my first time taking probiotics and my stomach has never felt better. The first couple of weeks I was a bit gassy and had minor bloating. After my body adjusted I was not gassy and my bloating was gone, as a matter as fact I think I lost a few inches around my mid section!" - Jenny Alley - Portland, OR

*Results may or may not be typical.*
Common Questions About BiomeMD (from the 1MD website):
What are probiotics?
Probiotics actually means "for life". Probiotics are living microorganisms that, in sufficient numbers, provide numerous health benefits when ingested or applied locally. Some call them the "good" bacteria. You want to keep your microbiome at an 80/20 level, with 80 percent being probiotic or "good" bacteria and the other 20 percent being "bad" bacteria.
How often should I take BiomeMD?
Once a day on an empty stomach or between meals.
Is this formula and capsule vegetarian?
Yes, even our capsules are made with vegetable cellulose.
Can I take this with a multivitamin?
Yes, but as always speak with your doctor before adding any new supplements to your routine.

UPDATE: 1MD Offers Consumer Survey Readers a Big Discount
We've done the research and we've rated 1MD our number 1 probiotic supplement; and boy, was our reader's response tremendous.
In fact it was so tremendous that we reached out to 1MD and they agreed to give us an exclusive 'First Time Buyer Offer.'
Buy BiomeMD from our website and you will receive a big discount plus, on orders of 3 or more bottles you can get free shipping.
After you try the product please send us your review so we can include your comments in our next survey.
(Limit one package per person - please only order one package of 1, 3, or 6 bottles for this page)
In Stock and ready to ship
FREE SHIPPING!
Original Price: $299.94 Your Price: $197.94 ($32.99 each)
Save: $102.00 (34%)
FREE SHIPPING!
Original Price: $149.97 Your Price: $116.97 ($38.99 each)
Save: $33.00 (22%)
FREE SHIPPING!
Original Price: $49.99 Your Price: $44.99 ($44.99 each)
Save: $5.00 (10%)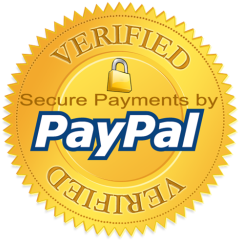 ---
P.S. While 1MD is the best probiotic supplement we've found, we would still love to hear about any others you've tried. If you have had a great experience of your own, please send me an email at Beverly@ConsumersSurvey.org with the details.
Sincerely,
Beverly Gratson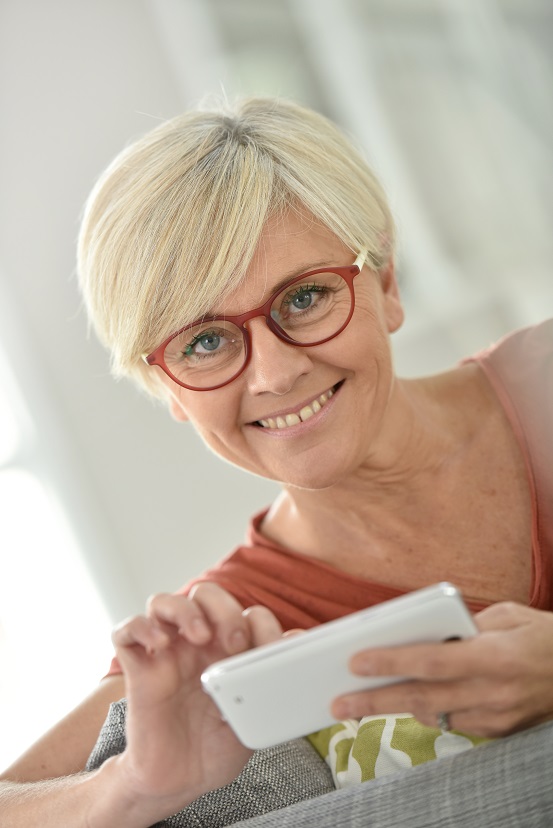 ---